Custom Garage Cabinets in St. Louis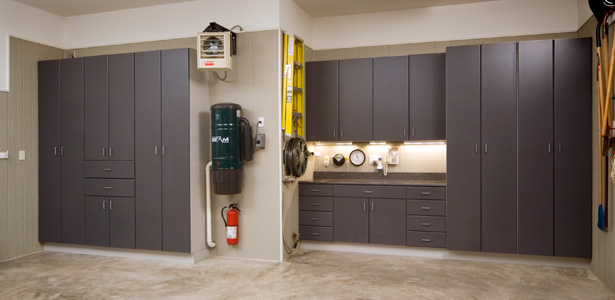 Beyond Storage in St. Louis provides custom garage cabinets to accentuate your garage space while providing ease of access to your commonly used tools and equipment. With the ability to maximize space constraints and increase storage capacity, our custom garage cabinets come uniquely constructed to fit your garage needs.
With adjustable shelving units, we are able to organize a multitude of varying sized equipment, ranging from power tools to rakes and shovels and everything in between. Built for durability and hard wear-and-tear, our custom garage storage cabinets are capable of combating the use of yard equipment and car supplies.
With custom cabinetry at the center of not only the organizational component of your garage, but its overall aesthetic appeal, your cabinets should seamlessly integrate into your existing decor. With a multitude of color and wood choices for your custom garage cabinets, our designers will help establish the overall desired look of your cabinets and work it into your garage. The Beyond Storage design team is experienced in creating the optimal storage space solutions for garage owners. For additional information regarding Beyond Storage's custom garage cabinets in St. Louis contact us or call us at 314.997.0150