Murphy Beds in St. Louis
Roll away cots or blow-up mattresses can clutter your space and are an uncomfortable sleeping solution for hosting friends or family at your home. By investing in a Murphy bed in St. Louis, you combat your space constraints while still providing a multi-functional and comfortable unit in your home.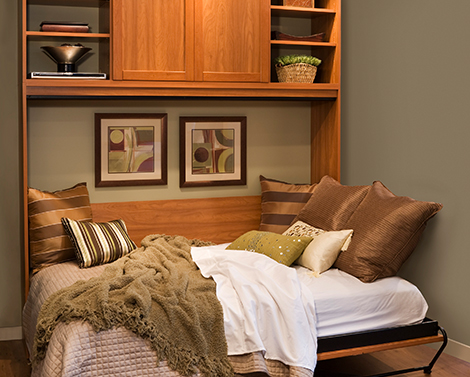 Benefits of Murphy Beds
Select from a variety wood types and finishes to match seamlessly with your interior design. A Murphy bed allows you to regain the floor space in your guest room, home office, craft area or den while still having creating a bedroom for visitors to use. To see examples of the Murphy beds we have created for customers in St. Louis, view our Murphy Beds Gallery.
Match Your Home DecorCustom Styles
Murphy beds from Beyond Storage are custom produced, so there are countless possibilities for building the perfect wall bed unit that has the functionality and style you are looking for. Whether you would like custom built shelves, desks, cabinets or night stands added to your Murphy bed unit, we will ensure that it matches your expectations.
Add valuable living space to a room
More comfortable than temporary bedding
Wall Beds are easy to store & use