Kitchen Pantry Design & Organization
Do you love to cook but dread the preparation process
because your kitchen pantry is unorganized?
With a custom design from Beyond Storage, your kitchen can transform into an efficient, easy-to-use and functional space. Properly designed cabinets, shelves, and drawers maximize efficiency while a wide-selection of innovative storage accessories will help return proper functionality and organization to your kitchen pantry.
With decades of experience, our design consultants will help you organize your entire kitchen area, returning valuable pantry storage space and peace of mind.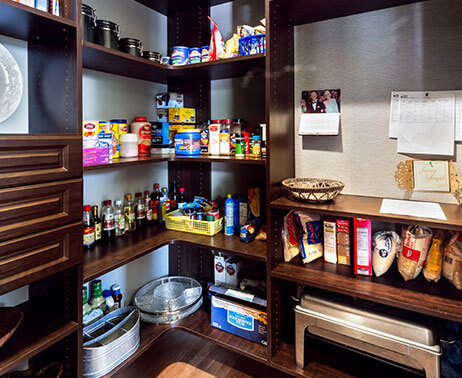 Customizable Kitchen Accessories
No matter your preference, our experienced design team will work with you to select the appropriate organization solutions for your kitchen that fit your home decor and personal taste, while maximizing your storage capacity and creating the highest functionality for the space.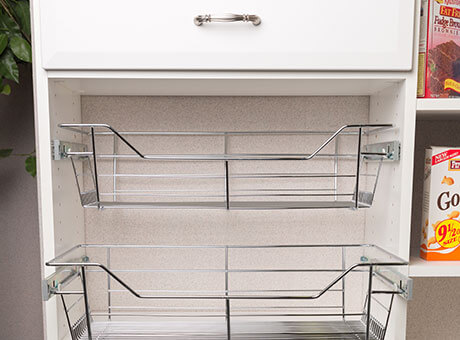 Baskets
Divide and conquer unused or unorganized space with baskets and bins. Baskets maximize your storage space, cut clutter, and increase the visibility of your kitchen pantry shelves. Say goodbye to rummaging through the kitchen pantry for tonight's dinner requirements. Baskets work great for storing bulk items, snacks, breads and even the ingredients for an entire meal, helping you stay organized.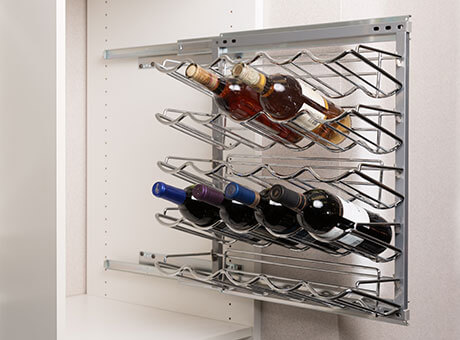 Wine Racks
Wine storage should be more than just a box filled with wine bottles in your basement. Beautiful and functional, wine racks come in so many designs, styles and sizes. Common examples are wall-mounted wine racks, tabletop wine racks, corner wine racks, stackable wine racks, hanging wine racks, wrought iron wine racks, or an under-cabinet wine rack. This accessory is just one of the many ways to maintain optimal organization.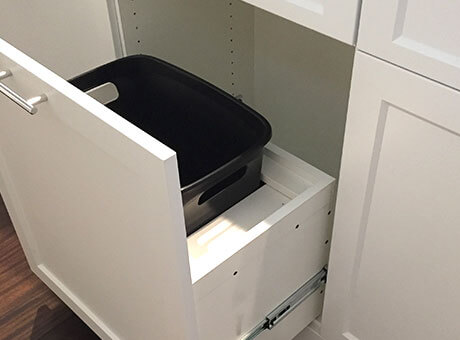 Recycling Bins
At Beyond Storage, we have a number of recycling bins designed to help you collect, sort and conceal your waste and recyclables with ease. Whether you're looking for built-in, pull-out, door-mounted or drawer recycling bins, our selection aims to make your recycling process easier as well as make the best use of available space in your kitchen pantry.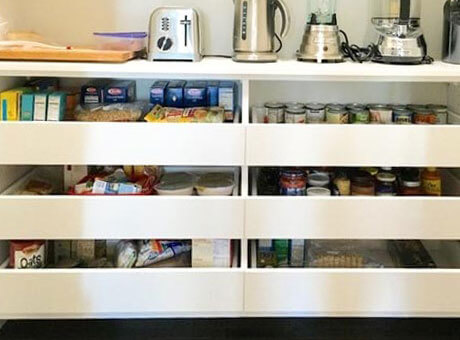 Pull Out Trays
With a simple pull, pantry pull out trays allow you to enjoy the convenience of having everything at your fingertips. Our selection of pull out trays are available in different heights that can adjust as your storage needs change, making them versatile for both large and small items.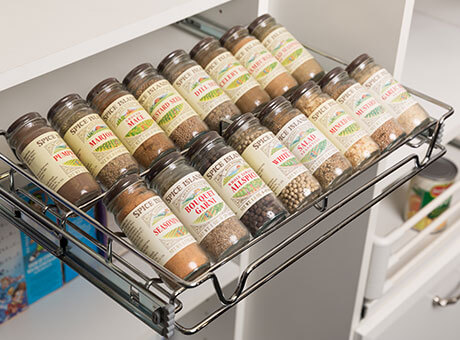 Spice Racks
Fumbling through your kitchen for the right spices each night can often be a clumsy, maddening process. Keep your kitchen cabinets, countertops and drawers in order with spice racks from Beyond Storage. Whatever your style preferences may be – door-mounted spice rack, wall-mounted spice rack, pull-out spice rack or drawer spice rack – we have you covered.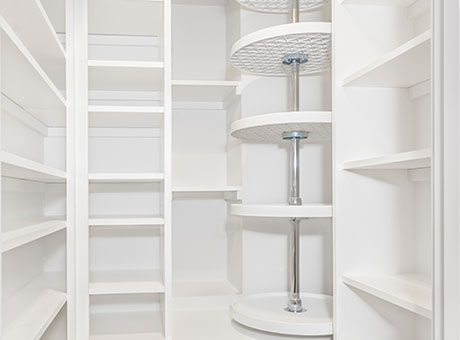 Lazy Susans
Lazy Susans for kitchen cabinets and pantries are a great way to efficiently utilize corners, save space and make items in your kitchen more accessible and organized. Our selection of lazy susans come in just about any size, shape or style – a few example sizes are D Shaped, kidney shaped, pie cut, full circle and half moon.